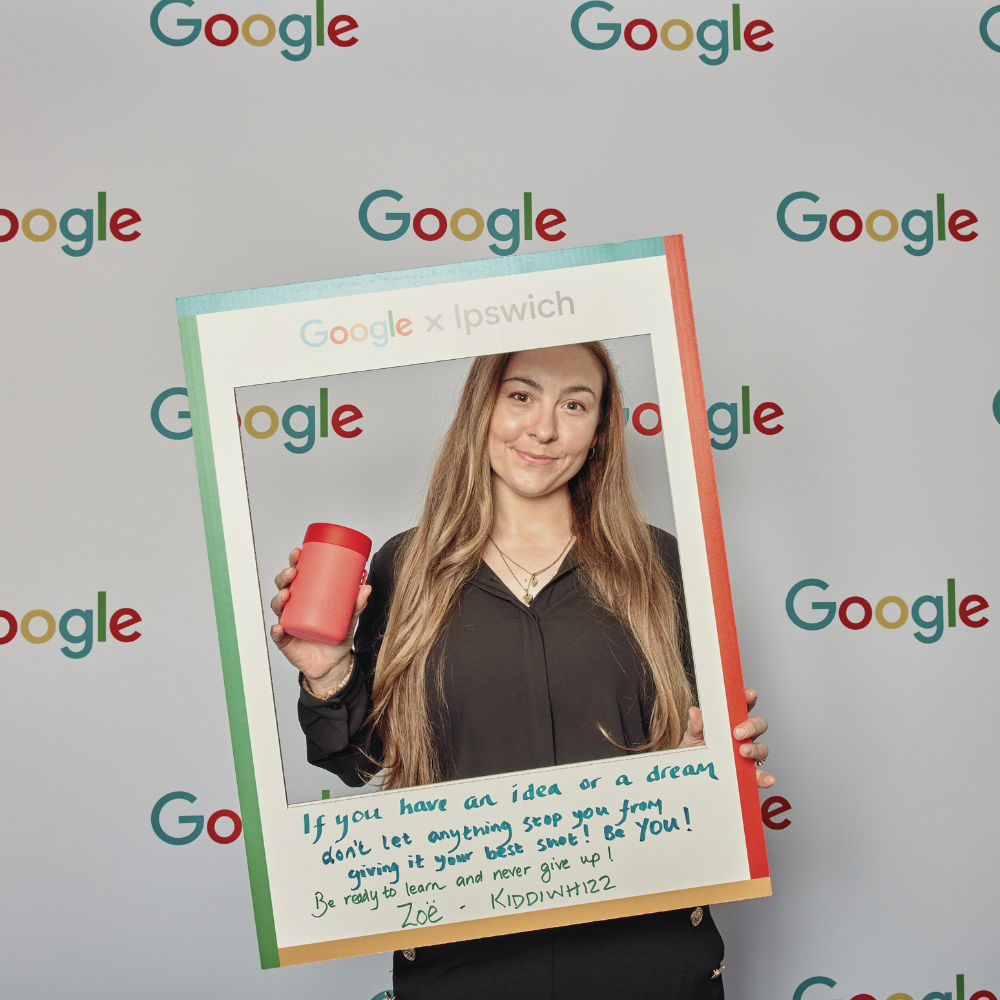 Taking it Step-by-Step: The bootstrapped product start-up
I'm often asked by those in various stages of their start-up business journey where I started and the path I followed.
It is going to be different for every Founder and business depending on things like the type of product or service you're selling, whether or not you have funding, experience or support. Even the type of personality traits you have can affect your journey.
So let's start with the basic questions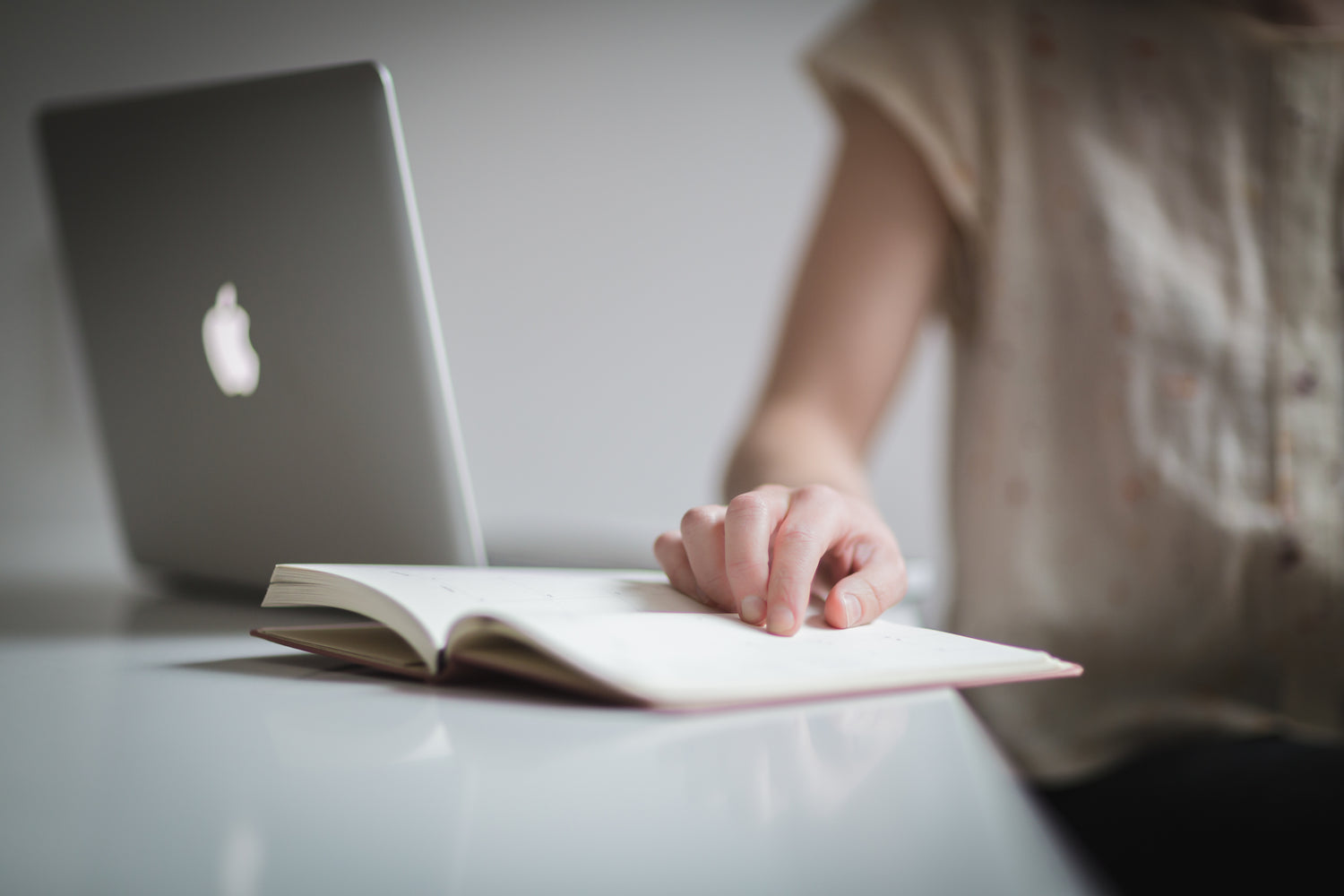 Do you have business idea?
If yes, make sure it's stripped back, streamlined and not overly complicated. You can always add to it once you're on your way. So many people find it hard to start because they've got such a complex vision or multi-faceted end-goal. This will only slow you down. Always start with tasks you feel confident about achieving but never fear stepping out of your comfort zone as that's often what will develop you as a Founder to achieve more than you could ever have imagined.
If you don't have a business idea, question why it is you want to start this journey because it's not for the faint-hearted. You will come up against so many challenges that you will need an extraordinary amount of passion and determination to overcome. If your heart is not in the business and you're not totally invested in it then it could all be a waste of time.
What is your 'Why'?
Your 'why' is what will drive you and stop you from giving up. It's your reason for starting and the thing that you will turn to in your darkest days to give you the strength to carry on. It needs to be powerful. Mine was my son. I wanted to show him that regardless of my disabilities and disadvantages I could follow my dream and make a better future for us by working hard and believing in myself.
Make a plan
Write a rough step-by-step guide to how you think you will go from the point you are currently at to the point where you feel you want to arrive at and would define as success. You don't need to know all the answers but visualising the end goal and giving yourself a template to add to will help keep you on track. This image shows a snippet of that was including in my plan which was then broken down into further tasks and all included significant research.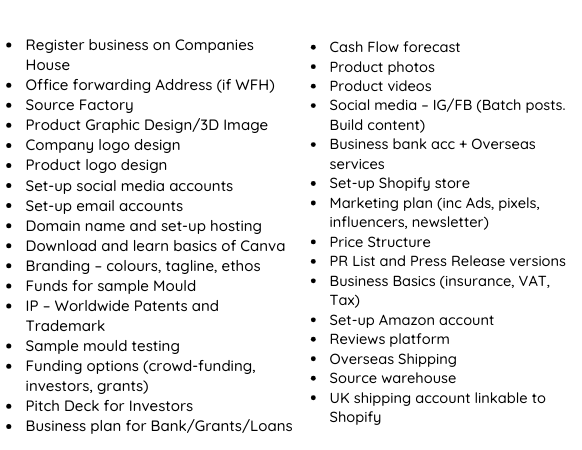 What will you need to kick this plan off?

Is it funding, experience, workspace, something else or all of that and more. By knowing the fundamentals of what is required you can start to tackle how you will secure each element. For me, my main issue was funding. I knew I'd need approximately £12,000 for my mass production sample and final moulds and another £9,000 for the first production run based on the MOQ (minimum order quantity) and cost price. I'd also need a minimum of £2000 for my initial IP (Intellectual property; trademarks and Design Patents). Considering I had about £1000 saved I knew I'd need to look at funding options to even have a chance to making a start.

What experience, learning and/or support will you need?

Do you know the basics of starting and running a business? Do you know how to set-up a website, register a business, apply for protection of your ideas, routes to funding, designing a product, qualifications needed to provide a service? There's lots to think about but you ned to be prepared to learn as you go or have the network or team around you to cover all the bases needed.

Learning and Networks

My business journey began after reading an advert in my local council newsletter about a free course that was going to be run by Rebel Business School. It was a 2 week intensive programme that covers the basics of starting a business without funding or a business plan. My passion and confidence was ignited that very first day of attending over a Zoom from my living room and I jumped from that course to the next one and continued to use the support and lessons of these programmes for the entire 1st year alongside running the business full-time. I highly recommend to anyone starting out, especially if you have no network, to find a course and prioritise learning. Here is a list with links to all the programmes I attended. Check your local council website for details of more near you so you can grow your own network.
Rebel Business School
LIFT and OneTech
Foundervine
Capital Enterprise
British Library Business IP Centre
Enterprise Nation
Want to learn how to Pitch?
The Pitch UK are the start-ups version to Dragons' Den. With small business Entrepreneurs pitching live to Investors and big industry names in a bid to secure support but with great exposure along the way. I've linked their downloadable business guide and their website where you can get lots more resources and hopefully you can be standing on the stage too. Make I get an invite to watch though!
How will you reach you customers?

It is a physical store? Have you monitored the location for long enough to know it's right for your audience and budget? 
Is it a B2B business that requires you to build a portfolio of customers from LinkedIn? How will you ensure that you can reach the right people and engage them.
Is it product that you want to sell on Etsy? Have you followed others to see how they've done it? Is there a course you can take or social media page that can ensure you're setting it up and promoting yourself in the right places.
Is it a Shopify store that you want to stock other peoples products on? How will you drive traffic there? How will you build your inventory and streamline your range to ensure you can retain customers? The Dropshipping models only work when you have a way to drive customers to your site.
Is it an innovative product (like mine) where you know its needed but now need to find people and convince them to buy. Where will you store these products and how will you showcase them away from the website to encourage people to come and buy.

Have you tested your idea?

Don't rely on friends and family to tell you your idea is great.

You need to test the market, that means real people.

Do your research, see how many people there are in your target audience and make sure there is a product market fit.

If your target audience isn't large enough to ensure your product will generate the revenue needed to keep your business thriving, then it will be come a hobby or side hustle. If you're okay with this then that's great and if you're able to manage a job that pays the bills alongside doing what you love then thats awesome!

But to make a business successful you need to know you will have the time to keep up with the consistency and maintain steady growth opportunities that will land you at that end goal you wrote out earlier. 

If you have a large target audience but they don't have the disposable income needed to buy what you're selling then you'll have to re-think your offering as you could end up putting time and expense into a product that can't be used.

What is your marketing strategy?

It doesn't need to be any fancy but the more you know about your chosen method/platform (TikTok, Facebook Ads, Google Trends, Press and PR etc) and have access to, the easier and quicker it will be to reach your customers and gain traction. 

If you're planning on using social media, it's a great tool for free exposure but you need to have a clear idea of how you will engage followers.

What can kick you off on socials is if you already have an engaged following that consists of the people who would buy what you're selling.

For example, I learnt how to use Instagram when I started my page @notjustasinglemother Initially it was my way to make sense of the feelings and struggles I was facing. I felt like I was the only one in that situation but the more I posted the bigger my following got and I realised I wasn't alone. It wasn't huge by any means but when the time came for me to start Kiddiwhizz I had a wonderful group of supporters who cheered me on and even had a say in decisions like my packaging designs, as I was able to share what I was working on and get their opinions. They saw how hard I was working and became invested in my story before the product was even launched. I've learnt lots along the way but heres some tips:

Don't cut corners by buying followers or joining quick fix programmes that are sold to you with the promise of making your business an overnight success. There's no short-cuts, it will only waste valuable time and resources and can potentially go against you when it comes to trying to outsmart an algorithm.
Be consistent and think outside of the box. Engaging content that makes people want to follow and support you will be far more powerful and long term. Build trust and stick to your content pillars. For example, don't go off topic because of a trending reel or something that you think is interesting. Find a schedule that you can stick to instead of posting for the sake of it.
Don't bombard users with sales driven content, people buy from people so make sure you and your story are at the heart of what you do.
Build a network and follow other businesses for ideas and inspiration but don't copy. Be yourself and stick with it.
Be prepared to feel like you're not getting anywhere and no one is seeing your content. It can be soul destroying most of the time but it can all change in the blink of an eye or a viral piece of content.
Stick to one or two platforms (e.g. TikTok and Instagram or LinkedIn and Facebook) by spreading yourself too thinly you wont be consistent and will become overwhelmed and not run any of them effectively. If you feel more confident on one then start there but figure out which platform your ideal customers hang out on. For example if your focus is B2B then TikTok might not be right and you need to focus on reaching out to people in LinkedIn. For every 1000 cold DMs on LinkedIn you may only get a few warm leads but by learning what works and adapting the tone or approach you can perfect your pitch.
Utilise your talent or skill, if you're really knowledgable about a topic that relates to your business then weave it into the content to build up credibility. 
Be aware of brand reps and influencers who come to you for free products just because they look like they have a big following and lots of likes and comments on posts it's more often than not, fake! They are in closed groups where they like and comment on each others posts and use follow loops to get their follower numbers up. However when they post about your product you might get some engagement but it won't result in sales because the majority of people seeing it will be other 'brand reps' who only want freebies and won't buy your product.
Good Luck!
This is a condensed guide which I will keep adding to but hopefully it gives you some encouragement and something to get your started with your very own start-up business.
Now my final thoughts -
Believe in yourself, surround yourself with like minded people, be prepared to learn and always be guided by your 'Why'.
Blog posts
I'm celebrating Global Entrepreneur Week with an article on what I think it takes to be a 21st-century Entrepreneur. I was asked by Enterprise Nation for my break-down of traits...

I'm celebrating Global Entrepreneur Week with an article on what I think it takes to be a 21st-century Entrepreneur. I was asked by Enterprise Nation for my break-down of traits...

The Step-by-Step guide to launching a bootstrapped product start-up business I've often asked by those in various stages of their start-up business journey where I started and the path I...

The Step-by-Step guide to launching a bootstrapped product start-up business I've often asked by those in various stages of their start-up business journey where I started and the path I...

THE DRAGONS DEN JOURNEY How did I go from starting a business from my airing cupboard in 2020 to filming Dragons' Den in just 18 months? Here's the condensed version...

THE DRAGONS DEN JOURNEY How did I go from starting a business from my airing cupboard in 2020 to filming Dragons' Den in just 18 months? Here's the condensed version...